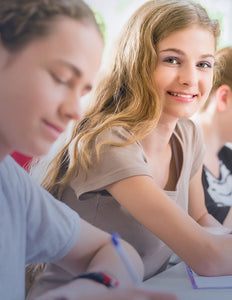 ARISE and the Search Institute. Families, Schools and Institutions (39 Books)
Regular price $934.99 Sale
ARISE Life Skills Curriculum package for the Search Institute.
($1,251.05 value; a savings of $316.06 OFF regular prices)
Overview of this Package
ARISE Life Skills curriculum helps organizations that utilize the Search Institutes Developmental Assets Framework by providing life skills lessons that are used in group settings to engage youth. These Search Institute ARISE life skills lessons are interactive, foster group discussion, debate, and personal expression on serious and useful topics such as resistance skills, conflict resolution, anger management, and self-esteem to name a few. The ARISE Life skills lessons satisfy many of the Search Institutes Development Assets for middle childhood, and adolescents. ARISE is particularly helpful in providing lessons to fulfill the Search Institute's focus on social competencies and positive identity involving peaceful conflict resolution, resisting negative peer pressure, interpersonal relationships, planning and decision making and self-esteem.
The Life Skills curriculum included in this package covers the following areas:
Anger and conflict management (priceless information).
Secrets of finding a job and keeping it.
Achieve one's dreams by using fundamental time management skills so people can depend on you.
Disarming the substance abuse self-destruct button.
How the use of guns and physical violence can mess up a bright future.
Realistic information on avoiding abusive sexual behavior.
Essential communication skills - non-verbal and verbal. How to express your opinion so people will listen.
Basic relationship skills –including the importance of sharing your feelings.
Building self-confidence and most important the opinion you have of yourself.
Discover how each of us possess the power to manage our emotions.
Managing your money - building good credit scores, avoiding pay day loans just a few of tips participants must have.
The positive effects of developing good personal health and hygiene habits. Today health care is self-care.
Why eating healthy and being physically active are important parts of self-development.
Through all of life's ups and downs discover what it takes to live a happy, successful, rewarding life
Learn why facts don't lie. Those without a high school diploma earn less, a lot less. Getting the good things in life takes education. One of the payoffs for working hard in school is never having to tell your family, "we can't afford it".
Package Format
Perfect for middle school and high school aged youth. Every lesson is self-contained, and no additional material is needed.
Excellent for groups where the populations fluctuate. Each group lesson is designed to run approximately 45–60-minutes.
39 unique curricula plus unforgettable educational life skills posters and incredibly special ARISE positivity cards.
These life skills lessons engage the youth in memorable interactive group discussions and hands-on activities. There are no put downs. Opinions welcome in ARISE groups.
High interest but low reading level. No big words to trip and fall over that would turn these youth off.
View sample pages from each book by clicking on the links below for each Manual (or individual title) and then click on VIEW SAMPLE.
Click links below to get content information and prices to purchase additional copies:
Life Skills for Middle School Series
Life Skills for Middle School Volume 1 Anger, Conflict and Drugs (Manual)
Life Skills for Middle School Volume 1 Anger, Conflict and Drugs (Workbook)
Life Skills for Middle School Volume 2 Learning Strategies (Manual)
Life Skills for Middle School Volume 2 Learning Strategies (Workbook)
Life Skills for Middle School Volume 3 Self-Esteem and More (Manual)
Life Skills for Middle School Volume 3 Self-Esteem and More (Workbook)
Life Skills for Middle School Volume 4 Healthy Life Choices (Manual)
Life Skills for Middle School Volume 4 Healthy Life Choices (Workbook)
Brain Food Book 1 Peaceful Living
Brain Food Book 2 Creating a Positive Outlook
Brain Food Book 3 Supercharging Your System
Brain Food Book 4 Being Safe
Brain Food Book 5 More Secrets of Success
Brain Food Book 6 The Right Stuff and Money Matters
Get Smart! Book 1 Success, Worry and Forgiveness
Get Smart! Book 2 Tips on Managing Emotions and Success
Get Smart! Book 3 Bullying, Courtesy, Violence and Profanity
Get Smart! Book 4 Day in the Life of a Dropout, Teenage Mom, Behind Bars and Success Quotes
Get Smart! Book 5 Friends, Incarceration, 67 Reasons to Wait for Sex, Motherly Advice and Threats
Get Smart! Book 6 Secrets of Success Quotes

Work In Progress Series
Work In Progress Book 1 Anger Management (Manual)
Work In Progress Book 1 Anger Management (Workbook)
Work In Progress Book 2 Substance Abuse and Guns (Manual)
Work in Progress Book 2 Substance Abuse and Guns (Workbook)
Work In Progress Book 3 Domestic and Sexual Abuse (Manual)
Work In Progress Book 3 Domestic and Sexual Abuse (Workbook)
Work In Progress Book 4 Violence and Conflict (Manual)
Work In Progress Book 4 Violence and Conflict (Workbook)

Taneka's Tales 31 Stories of Urban Life
So You're Thinking of Dropping Out of School? (Manual)
So You're Thinking of Dropping Out of School? (Workbook)
Four Wheel Drive for the Mind Series
Four Wheel Drive for the Mind Book 2 Learning Strategies and Time Management (Manual)
Four Wheel Drive for the Mind Book 2 Learning Strategies and Time Management (Workbook)
Four Wheel Drive for the Mind Book 3 Networking, Jobs and Money (Manual)
Four Wheel Drive for the Mind Book 3 Networking, Jobs and Money (Workbook)
Life Isn't Fair - but That Doesn't Mean You Should Quit! (Manual)
Life Isn't Fair - but That Doesn't Mean You Should Quit! (Workbook)