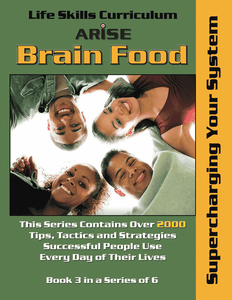 Brain Food: Supercharging Your System (Book 3)
Regular price $29.95 $29.95 Sale
Curriculum Packs are available! Use the drop-down arrow next to Add to Cart to view options.
Important Life Skills – Before It`s Too Late!

The Supercharging Your System book contains 350 bite-sized, easily digested nuggets of priceless information the average youth at risk never learns until it's too late. These life skills activities include STDs, HIV and AIDS, drug and alcohol abuse, and the importance of good nutrition.

A perfect health school curriculum for middle school and high school, after school programs, diversion programs, community based organizations, re-entry programs and alternative to incarceration programs.

The Supercharging your System life skills for teens book contains 37 pages of tips, and 36 pages of life skills activities. It is Book 3 of a 6-book life skills curriculum that contains over 2000 self-improvement strategies and tactics for getting and staying ahead. It addresses the dangers of STD and drug and alcohol abuse.
Publisher's Special! Save money when you purchase the six book series, plus get a Bonus Brain Food Official Teaching Activity Guide for FREE!