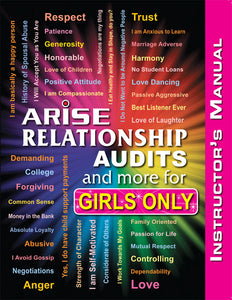 Girls and Young Women Are Different: Gender Specific Awareness ON-SITE Staff Training
Regular price $2,500.00 Sale
Trainer travel expenses and accommodation are NOT included in total price for both USA and Canada
Time Commitment: 1 Day (7 hours)
Participants: up to 25 people
ARISE began its Girls Initiative by developing a Gender Awareness Training for the Department of Juvenile Justice staff who supervise young girls in detention and residential facilities. The Initiative was a partnership between ARISE and Vicki Lopez, a community volunteer who has worked with girls in the juvenile justice system for the last several years. Through our work with Mrs. Lopez, we realized that juvenile justice workers were treating boys and girls in the same ways which was having a negative effect on the girls in the system. To remedy this, we cover topics we find fundamental to addressing the current gender disparities in the juvenile justice system.
Topics Include:
How girls express aggression differently than boys;
The role that parents play in a girl's anti-social behavior;
How girls participate in bullying;
Forms of victimization and other common factors that play into girls' delinquency;
Types of crimes that girls commit
Girls' protective factors
Actions staff can take to positively impact the lives of girls under their care.
Girls Initiative is ideal for:
This training is ideal for any of the following people working with at-risk girls and young women:
Juvenile Justice Staff
Independent Living Facilities
Church Groups
Halfway House Staff
Group Homes
Homeless Shelters