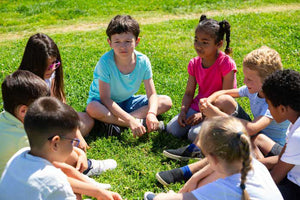 ARISE Life Skills Program for Pre-K and Elementary School (17 Books)
Regular price $469.99 Sale
($577.15 value; a savings of $107.16 OFF regular prices)
The ARISE Life Skills Program for Pre-K and Elementary school consists of life skills lessons that enable children to adapt to and deal effectively with the demands and challenges of life. These core skills involve self-awareness, empathy, critical thinking, decision making, problem solving, effective communication, interpersonal relationships, coping with stress and emotions.
The life skills program for pre-K and elementary school children provides lessons in the following areas:
Self-esteem

Building friendships

Keeping Safe

Dealing with Conflict

Respecting others

Listening Skills

Handling Emotions

Managing stress and anger

Health and Hygiene

Dangers of guns, drugs, and alcohol

Protecting our environment

Nutrition and Exercise
Package Format
Lessons for grades Pre-K through 5th grade.
Pre-K - grade 1 curriculum features active learning. It is based on a HighScope play-based and child centered theory.
Grades 2-5 lessons engage the youth in interactive group discussions and hands-on activities.
Every lesson is self-contained, and no additional material is needed.
Each lesson easily fills a 30-60-minute time block.
View sample pages from each book by clicking on the links below for each Manual (or individual title) and then click on VIEW SAMPLE.
Little by Little Pre-K - 3-Book Series
Little By Little Pre-K Book 1 Me and My World
Little By Little Pre-K Book 2 Keeping Me Safe and Healthy
Little by Little Pre-K Book 3 My Character, Ethics and Emotions
Little by Little K-Grade 1 - 4-Book Series
Little by Little K-Grade 1 Book 1 My Character and Ethics
Little by Little K-Grade 1 Book 2 All About Me
Little by Little K-Grade 1 Book 3 Safety All Around
Little by Little K-Grade 1 Book 4 Art Activities and Puppet Plays
Life Skills for Young Folks Grades 2/3 - 2-Book Series
Life Skills for Young Folks Grades 2/3 Volume 1 Making Good Choices and Environment (Manual)
Life Skills for Young Folks Grades 2/3 Volume 1 Making Good Choices and Environment (Workbook)
Life Skills for Young Folks Grades 2/3 Volume 2 Becoming the Best Me I Can Be and Safety and Health (Manual)
Life Skills for Young Folks Grades 2/3 Volume 2 Becoming the Best Me I Can Be and Safety and Health (Workbook)
Child Safety Weekly Events Grades 3-5 - 2-Book Series
Child Safety Weekly Events Grades 3-5 Volume 1 Substance Abuse, Violence and Anger
Child Safety Weekly Events Grades 3-5 Volume 2 Electrical Safety, Health and Poison
Big Kids Book of Life's Lessons Grades 4-5 - 2-Book Series
Big Kids Book of Life's Lessons Grades 4/5 Volume 1 Making Good Choices and Environment (Manual)
Big Kids Book of Life's Lessons Grades 4/5 Volume 1 Making Good Choices and Environment (Workbook)
Big Kids Book of Life's Lessons Grades 4/5 Volume 2 Becoming the Me I Want to Be, Safety and Health (Manual) 
Big Kids Book of Life's Lessons Grades 4/5 Volume 2 Becoming the Me I Want to Be, Safety and Health (Workbook)