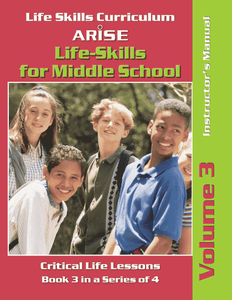 Life Skills for Middle School: Self Esteem and More (Volume 3) - Instructor's Manual
Regular price $49.95 $49.95 Sale
Curriculum Packs are available! Use the drop-down arrow next to Add to Cart to view options.
Building self-esteem in middle schoolers and teaching them how to choose role models sets them up for a successful future. In Volume 3 of Life Skills for Middle School provides interactive lesson plans on self-esteem, positive role models, building a support system, and rights and responsibilities. These interesting and memorable life skills lessons and activities keep the middle schoolers engaged and looking forward to the next lesson.
The 94-page Instructor's Manual contains teaching guidelines for all lessons and activities, 4 quizzes and answer keys, and 55 pages of learner's worksheets.
Order the associated Learner Workbook