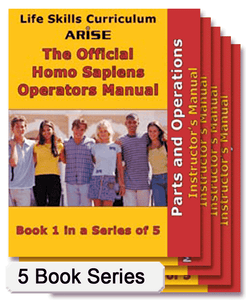 Homo Sapiens Operator's Manual Series
Regular price $259.50 Sale
The Complete Series Printed in Hard-copy :
(Includes 4 instructor manuals and 4 learner workbooks plus Vocab book a total of 9 books.)
This easily understood health curriculum is a straightforward approach to an often overlooked population: teens and young adults. In order to attract and hold the learners attention, The Official Homo Sapiens Operators Manual has been written to compare the human body to an automobile, outlining required service schedules and topics such as high octane fueling vs. junk food. Youth learn how their bodies work and what it takes to keep this wonderful vehicle in top operating condition.
The book Mother Nature Forgot to Provide at Birth. This complete five-part series focuses on the human body, its parts and operations, the importance of maintaining this "equipment", why health-care today is really self-care, defensive techniques against body wear and tear, topics like drugs, anxiety and stress, why keeping one's own family medical records makes perfect sense, plus important vocabulary terms associated with the human body so everyone understands how their wonderful machine works and how to refer to its various major parts. Learners are engaged in activities (e.g. role playing, discussion, not passive listening.)
The Official Homo Sapiens Operators Manual has been written specifically for teen and young adult populations and has been proven extremely effective for youth with learning disabilities. All ARISE curricula are designed for use in interactive groups. 
Instructor Manuals 1, 2, 3 and 4 have a corresponding learner's workbook included when the series is purchased. They are also available for individual purchase as printed hard-copy.
View sample pages from each book by clicking on the links below for each Manual and then click on VIEW SAMPLE.
Homo Sapiens Operator's Manual Book 1 Parts and Operations (Manual)
Homo Sapiens Operator's Manual Book 1 Parts and Operations (Workbook)
Homo Sapiens Operator's Manual Book 2 Maintaining Your Equipment (Manual)
Homo Sapiens Operator's Manual Book 2 Maintaining Your Equipment (Workbook)
Homo Sapiens Operator's Manual Book 3 Take the Highway to Health (Manual)
Homo Sapiens Operator's  Manual Book 3 Take the Highway to Health (Workbook)
Homo Sapiens Operator's Manual Book 4 Family Medical Records (Manual)
Homo Sapiens Operator's Manual Book 4 Family Medical Records (Workbook)
Homo Sapiens Operator's Manual Vocabulary Book