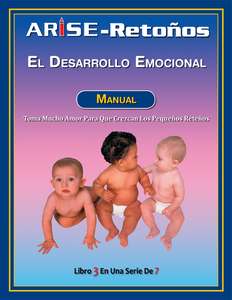 Sprouts: Emotional Development (Book 3) - Instructor's Manual (Spanish version)
Regular price $49.95 $49.95 Sale
Curriculum Packs are available! Use the drop-down arrow next to Add to Cart to view options.
Real-life lessons on the hardships, responsibilities, and sacrifices of teen parenthood. Lessons discuss a baby's healthy emotional development -building positive self-esteem, communicating love, understanding feelings, praising, positive discipline, teaching responsibility, quality time with your child, demonstrating kindness, talking to kids, listening and ways to respond to your child.
The 99-page ARISE Sprouts Book 3: Emotional Development Instructor's Manual contains lesson plans and instructional guidelines for all lessons and activities, 64 pages of learner's worksheets, 2 quizzes and 1 assessment, answer keys, and 3 motivational posters.
Order the associated Learner Workbook