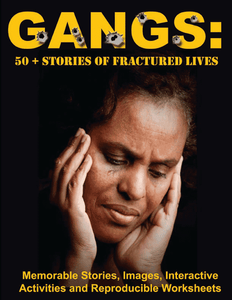 Gangs: 50+ Stories of Fractured Lives
Regular price $39.95 $39.95 Sale
Curriculum Packs are available! Use the drop-down arrow next to Add to Cart to view options.
By reading gang stories, youth at risk learn that joining a gang is an easy way to destroy a life. When at risk youth refuse to listen to the authority figures who do their best to prevent this life altering decision, do we just give up? ARISE says NO! Have youth in community based organizations, juvenile detention, secured residential facilities, or any other alternatives to incarceration read these gang stories based on real life situations to avoid making the mistake of joining a gang.
The best way to get messages across to youth is for them to hear it from each other. The 206-page book Gangs: 50+ Stories of Fractured Lives contains firsthand stories of how dangerous life in a gang really is. Each gang story was handpicked to illustrate a critical life skills point.